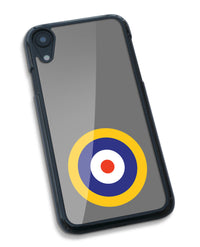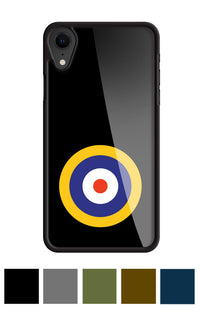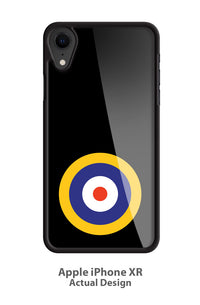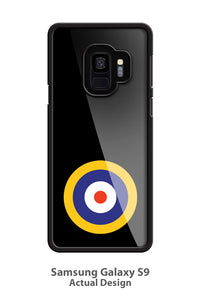 British Royal Air Force Early War Emblem Smartphone Case
Product Code:
RAF_EARLY_PHONE_BLK
Royal Air Force Early War Emblem Cell phone Case for Smartphone
The Royal Air Force (RAF) is the United Kingdom's aerial warfare force. It was formed towards the end of the First World War on 1 April 1918, becoming the first independent air force in the world, by regrouping the Royal Flying Corps (RFC) and the Royal Naval Air Service (RNAS). Following the Allied victory over the Central Powers in 1918, the RAF emerged as the largest air force in the world at the time. Since its formation, the RAF has taken a significant role in British military history. In particular, it played a large part in the Second World War where it fought its most famous campaign, the Battle of Britain.
The RAF's mission is to support the objectives of the British Ministry of Defense (MOD), which are to "provide the capabilities needed to ensure the security and defense of the United Kingdom and overseas territories, including against terrorism; to support the Government's foreign policy objectives particularly in promoting international peace and security".[6] The RAF describes its mission statement as agile, adaptable and capable Air Force that, person for person, is second to none, and that makes a decisive air power contribution in support of the UK Defense Mission". The mission statement is supported by the RAF's definition of air power, which guides its strategy. Air power is defined as "the ability to project power from the air and space to influence the behavior of people or the course of events".
Available in:
Black • Gray • Military Green • Steel Blue • Brown
for:
Apple iPhone 4 • 4s • 5 • 5s • 5SE • 6 • 6s • 6 Plus • 6s Plus • 7 • 7 Plus • 8 • SE • 8 Plus • X • XS • XS Max • XR • 11 • 11 Pro • 11 Pro Max • 12 Mini • 12 • 12 Pro • 12 Pro Max • 13 Mini • 13 • 13 Pro • 13 Pro Max • 13 Mini • 14 • 14 Plus • 14 Pro • 14 Pro Max • 15 • 15 Plus • 15 Pro • 15 Pro Max
Samsung Galaxy S4 • S5 • S6 • S7 • S8 • S8+ • S9 • S9+ • S10 • S10e • S10+ • S20 • S20+ • S20 Ultra • S20 Lite • S20 FE • S21 • S21+ • S21 Ultra • S21 FE • S22 • S22+ • S22 Ultra • S23 • S23+ • S23 Ultra
The cover / case is made of Flexible Rubber or Hard Plastic (for the oldest models) and a Printed Aluminum Insert.
The image is permanently infused into the aluminum that will not crack, fade, chip, or peel (we do not use stickers or decals).
Easy access to all buttons and features of your phone, plug your charger cable, and headset without removing the case.
The Smartphone is not included. You will receive 1 (one) Smartphone case / cover / skin only.
This Smartphone Case is brand new with tag. It is in stock, packed in bubble bag and ready to ship.
This product was designed, printed & packed in the USA.