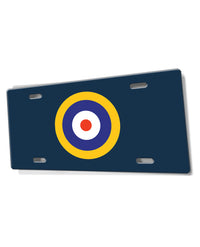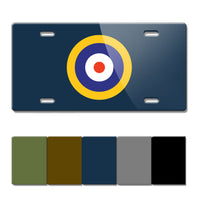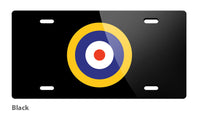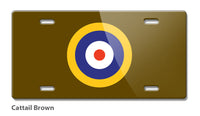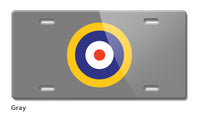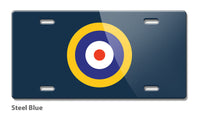 British Royal Air Force Early War Emblem Novelty License Plate
Product Code:
RAF_EARLY_EMBLEM_LP_BLACK
Royal Air Force Early War Emblem Novelty License Plate

The Royal Air Force (RAF) is the United Kingdom's aerial warfare force. It was formed towards the end of the First World War on 1 April 1918, becoming the first independent air force in the world, by regrouping the Royal Flying Corps (RFC) and the Royal Naval Air Service (RNAS). Following the Allied victory over the Central Powers in 1918, the RAF emerged as the largest air force in the world at the time. Since its formation, the RAF has taken a significant role in British military history. In particular, it played a large part in the Second World War where it fought its most famous campaign, the Battle of Britain.
The RAF's mission is to support the objectives of the British Ministry of Defense (MOD), which are to "provide the capabilities needed to ensure the security and defense of the United Kingdom and overseas territories, including against terrorism; to support the Government's foreign policy objectives particularly in promoting international peace and security".[6] The RAF describes its mission statement as agile, adaptable and capable Air Force that, person for person, is second to none, and that makes a decisive air power contribution in support of the UK Defense Mission". The mission statement is supported by the RAF's definition of air power, which guides its strategy. Air power is defined as "the ability to project power from the air and space to influence the behavior of people or the course of events".
Available in: Military Green - Brown - Steel Blue - Gray - Gray - Black
Made of .032 Aluminum
6" x 12" (153 x 306 mm) standard automotive license plate size
4 holes for easy mounting
Water-resistant
UV protected for outdoor use and durability
Made in USA
While every endeavor has been made to accurately reproduce colors, there may be variations compare to the sample colors, because of the print / sublimation process