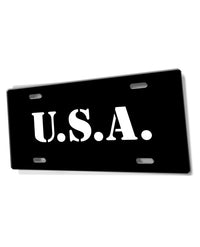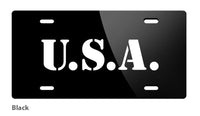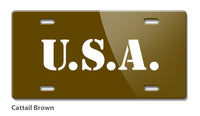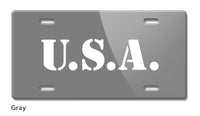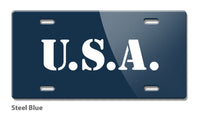 U.S.A. Military Style Novelty License Plate
Product Code:
USA_ARMY_EMBLEM_LP_BLACK
U.S.A Military Style Novelty License Plate

The United States of America (U.S.A. or USA), commonly known as the United States (U.S. or US) or America, is a country primarily located in North America. It consists of 50 states, a federal district, five major unincorporated territories, 326 Indian reservations, and some minor possessions. At 3.8 million square miles (9.8 million square kilometers), it is the world's third- or fourth-largest country by total area. With a population of more than 331 million people, it is the third most populous country in the world. The national capital is Washington, D.C., and the most populous cities are New York City, Chicago and Los Angeles.
Perfect for all car enthusiasts that want to enhance the front look of their Military vehicle or simply their car. These Novelty License Plates look great on the front of the car or a wall at home, garage, office, workshop, Man cave, private roadways or anywhere you feel you deserve a special deco spot. This is the ideal gift for any car enthusiast.
Available in: Military Green - Brown - Steel Blue - Gray - Gray - Black
Made of .032 Aluminum
6" x 12" (153 x 306 mm) standard automotive license plate size
4 holes for easy mounting
Water-resistant
UV protected for outdoor use and durability
Made in USA
While every endeavor has been made to accurately reproduce colors, there may be variations compare to the actual sample colors, because of the print / sublimation process