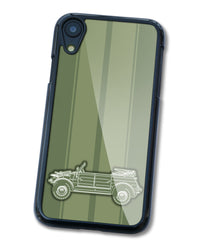 Volkswagen Kübelwagen Type 82 Smartphone Case - Racing Stripes
Product Code:
VW_TYPE82_SDLND_STRP_BRITGREEN
Volkswagen Kübelwagen Type 82 1940 - 1945 Cell Phone Case for Smartphone
The Volkswagen Kübelwagen,literally "Tub" car, was a light military vehicle designed by Ferdinand Porsche and built by Volkswagen during World War II for use by the German military. Based heavily on the Volkswagen Beetle, it was prototyped as the Type 62, but eventually became known internally as the Type 82. It was not until January 1938 that high-ranking Third Reich army officials formally approached Porsche about designing an inexpensive, light-weight military transport vehicle, that could be operated reliably both on- and off-road, in even the most extreme conditions. This implied that the Beetle could provide the basis for such a vehicle. Full-scale production of the Type 82 Kübelwagen started in February 1940, as soon as the VW factories had become operational. No major changes took place before production ended in 1945. When Volkswagen production ceased at the end of the war, 50,435 Kübelwagen vehicles had been produced, and the vehicle had proven itself to be surprisingly useful, reliable, and durable. Long after the end of the war, VW resurrected the basic Kübelwagen design as the 1969 Type 181, developed for the German Federal Armed Forces and later also produced for the civilian market, known as "Thing" in the US, "Trekker" in the UK, and "Safari" in Mexico. The Kübelwagen was for the Germans what the Jeep and GAZ-67 were for the Allies.
A game of subtle lights and shadows reveal the magnificent curves of the body of this Legendary German Automobile: The Volkswagen Kübelwagen Type 82 1940 - 1945 one of the most influential vehicle of the 20th century. A true Car Legend that lives forever: the Volkswagen Kübelwagen Type 82 1940 - 1945 Cell Phone Case for Apple iPhone and Samsung Galaxy Smartphones!
Available in:
Silver Grey • British Green • LeMans Blue • Italian Red • Military Green • Good Orange • Oil Black • Racing Blue
for:
Apple iPhone 4 • 4s • 5 • 5s • 5SE • 6 • 6s • 6 Plus • 6s Plus • 7 • 7 Plus • 8 • SE • 8 Plus • X • XS • XS Max • XR • 11 • 11 Pro • 11 Pro Max • 12 Mini • 12 • 12 Pro • 12 Pro Max • 13 Mini • 13 • 13 Pro • 13 Pro Max • 13 Mini • 14 • 14 Plus • 14 Pro • 14 Pro Max • 15 • 15 Plus • 15 Pro • 15 Pro Max
Samsung Galaxy S4 • S5 • S6 • S7 • S8 • S8+ • S9 • S9+ • S10 • S10e • S10+ • S20 • S20+ • S20 Ultra • S20 Lite • S20 FE • S21 • S21+ • S21 Ultra • S21 FE • S22 • S22+ • S22 Ultra • S23 • S23+ • S23 Ultra


The cover / case is made of Flexible Rubber or Hard Plastic (for the oldest models) and a Printed Aluminum Insert.
The image is permanently infused into the aluminum that will not crack, fade, chip, or peel (we do not use stickers or decals).
Easy access to all buttons and features of your phone, plug your charger cable, and headset without removing the case.
The Smartphone is not included. You will receive 1 (one) Smartphone case / cover / skin only.
This Smartphone Case is brand new with tag. It is in stock, packed in bubble bag and ready to ship.
This product was designed, printed & packed in the USA.

*Volkswagen or any other marks are registered trademarks. Our products are not approved by any of these manufacturers and trademarks. We do not imply any association with these manufacturers and references are based on historical information in the public domain.