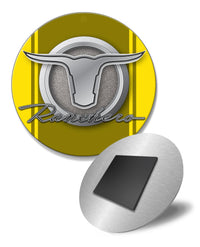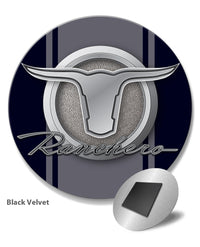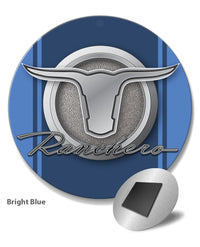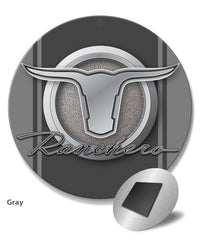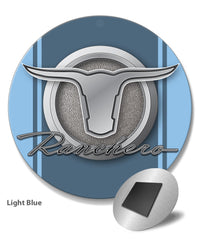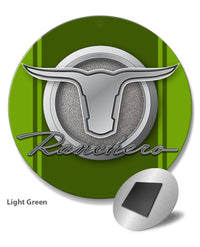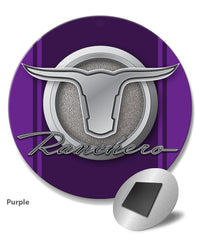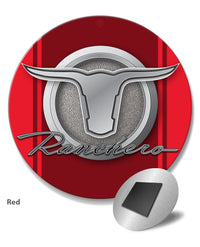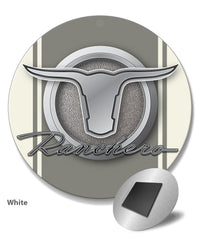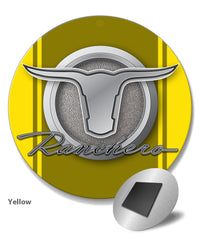 1960 - 1963 Ford Ranchero Emblem Round Fridge Magnet
Product Code:
60_63_RANCH_EMBLEM_RD_MAG_BLACK
1960 - 1963 Ford Ranchero Emblem Novelty Round Fridge Magnet

In 1960, The second-gen Ranchero arrived as a completely different vehicle. Redesigned inside and out, as it's common when moving into a new generation, the Ranchero became much smaller, based on Ford's compact Falcon, specifically the two-door sedan delivery variant. it was 13 inches shorter than its predecessor. Ford also shortened the wheelbase, which measured only 110 inches compared to 118. The popularity of small, economical cars like the Volkswagen Beetle perpetuated a shift in thinking among the three largest American manufacturers; 1959 had the introduction of the 1960 Falcon along with the 1960 Chevrolet Corvair and Plymouth Valiant. A pickup version of the Volkswagen Bus and a van based on the Chevrolet Corvair were offered, as well. The economic recession of the late 1950s also certainly played a role. Ford believed the market wanted a more practical vehicle, one much smaller, lighter, and cheaper than a full-sized pickup truck, and indeed the Ranchero sold well in this incarnation. Now marketed in print as the "Falcon Ranchero", the new vehicle's standard powerplant was an economical 144 cu in (2.4 L) straight-6. In 1961, the 170 cu in (2.8 L) straight-6 was offered, and in 1963, the optional 260 cu in (4.3 L) V8 was offered in addition to the 144 and 170. The two-speed Ford-O-Matic automatic transmission (1960 - 1963) or three-speed C4 Cruise-O-Matic could be ordered as could a three-speed manual transmission. The Ranchero had an 800-lb load capacity. The Ranchero evolved along with the Falcon in 1964, becoming just a little larger along with its parent and using the same basic body style for 1964 and 1965. In 1965, the 289 cu in (4.7 L) V8 replaced the discontinued 260 and an alternator replaced the generator in all Ford cars.
Perfect for all car enthusiasts that want to show their passion for their car. This Novelty Round Fridge Magnet shows the magnificent 1960 - 1963 Ford Ranchero Emblem on a vibrant and colorful background with racing stripes. Choose between 14 different colors that contrast beautifully with the 1960 - 1963 Ford Ranchero Emblem. This is the perfect way to show your passion for a true American muscle car, coupe utility. This 2.25" (57 mm) round magnet will look so cool on your fridge, tool box, metal shelving, or anywhere you want, as long as it's ferromagnetic. It is quality made of .045" Aluminum that will not fade or break and a1/2 inch square magnet in the back. For any car guy, this is the ideal gift to add style and show their passion, even in the middle of the kitchen.
Available in: Red - Purple - Light Green - Orange - Yellow - Pink - Bright Blue - Light Blue - Black Velvet - Dark Orange - Dark Green - Dark Blue - Gray - White
- Made of 0.045" (1.14 mm) Aluminum
- 2.25" (57.2 mm) diameter
- Durable aluminum material
- Water-resistant & easy to clean
- 1" backer magnet for adhesion
The image is permanently infused into the aluminum that will not crack, fade, chip, or peel (we do not use stickers or decals).
This product is made in the USA.
* Ford or any other marks are registered trademarks. Our products are not approved by any of these manufacturers and trademarks. We do not imply any association with these manufacturers and references are based on historical information in the public domain.