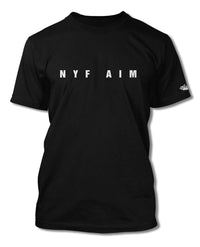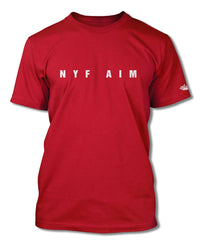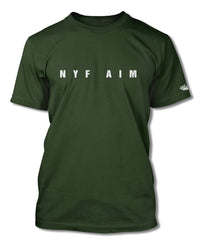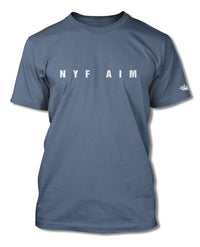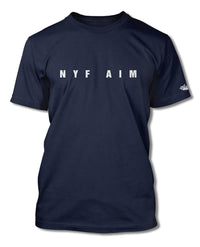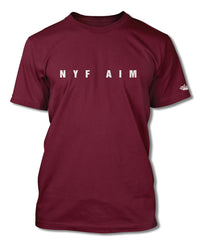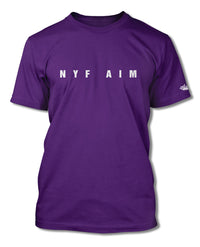 1964 AC Shelby Cobra "F****** - Cobra Wars" NYF AIM T-Shirt - Men
Product Code:
NMK_NYFAIM_S_BLK
1965 AC Shelby Cobra 427 SC 289 FIA T-Shirt for Men - NYF AIM
When compare to F******, Carroll Shelby was the underdog, but he was charismatic, relax and most of all determined to fight to the end. He was the perfect caricature of "Don't mess with Texas". After F******'s "dirty" trick to win the 1964 FIA's title, Carroll would had say during a passionate conversation: "Next Year… F******'s Ass Is Mine" Soon, a coded version of the infamous sentence, appeared on some cars: NYF AIM, and the Legend started!
The coded sentence is illustrated as it was on the meatball of the Cobras. Placed on the front of the T-Shirt, this code will bring curiosity and long conversation about the war that happened between the two Legends of automobile racing. If anyone knows why there is extra space between "NYF" and "AIM", please contact us and tell us the story behind. NYF AIM Short Sleeve T-Shirt.
The featured original artwork has been printed on a high-quality 6.0 oz 100% pre-shrunk American cotton t-shirt.
Seamless double-needle collar - sleeve bottom hems.
It is available in Black, Charcoal, Cherry Red, Forest Green, Indigo Blue, Kiwi, Maroon, Navy Blue, Nuts, Military Green, Orange, Purple, Rust, and Steel Blue
in sizes S - M - L - XL - 2XL - 3XL
*4 Extra Large (4XL), 5 Extra Large (5XL), and Extra Tall (XT) t-shirts are available through special order. Please contact us for colors' availability, pricing and estimated delivery.
*AC Car, Shelby Cobra or any other marks are registered trademarks. Our products are not approved by any of these manufacturers and trademarks. We do not imply any association with these manufacturers and references are based on historical information in the public domain.