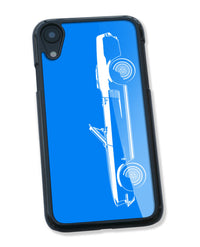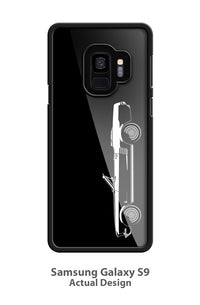 1967 Ford Mustang Base Convertible Smartphone Case - Side View
Product Code:
1967_FORD_MUST_CV_GEN_BIG_BLK
1967 Ford Mustang Base Convertible Cell Phone Case for Smartphone
For 1967, Ford reluctantly opted to re-style its class-leading Mustang as they were faced with increasing competition from other marques, including the Chevrolet Camaro and Dodge Charger. The 1967 Mustang became more visually imposing than its predecessor. The entire range received the new facelift, becoming bigger and offering additional passenger and luggage space. Larger V8 engines (289ci, 302ci, 428 CID) were also offered, including the 390 CID (6.4-liter) 'S' code unit that debuted in the Thunderbird and offered 325 horsepower. tThe 1967 Mustang was the first to be fitted with a 'big block' V8s. The base engine was the six-cylinder offering 120 horsepower. Depending on the configuration, the 289 overhead valve V8 produced 200 to 271 horsepower. New options included the SelectShift Cruise-O-Matic. The hardtop coupe body styles were the most popular, with 356,271 examples sold. The fastback coupe found 71,042 willing buyers while 44,808 selected the convertible. Prices remained similar to the prior years. Standard equipment included wheel covers, carpeting, floor-mounted shift, front bucket seats, heater, cigarette lighter, and vinyl interior trim.The 1967 Mustang redesign did not have the seismic effect as the original car did in 1964, but it pave the way with its modern platform for Ford to extract more power. The pinnacle of performance was the Shelby Mustangs, with the GT500KR at the top of the heap.
A game of subtle lights and shadows reveals the magnificent curves of the body of this Legendary American Muscle Car: 1967 Ford Mustang Base Convertible one of the most influential vehicles of the 20th century. A true Car Legend that lives forever: the 1967 Ford Mustang Base Convertible Cell Phone Case for Apple iPhone and Samsung Galaxy Smartphones!
Available in:
Silver Grey • British Green • LeMans Blue • Italian Red • Military Green • Good Orange • Oil Black • Racing Blue
for:
Apple iPhone 4 • 4s • 5 • 5s • 5SE • 6 • 6s • 6 Plus • 6s Plus • 7 • 7 Plus • 8 • SE • 8 Plus • X • XS • XS Max • XR • 11 • 11 Pro • 11 Pro Max • 12 Mini • 12 • 12 Pro • 12 Pro Max • 13 Mini • 13 • 13 Pro • 13 Pro Max • 13 Mini • 14 • 14 Plus • 14 Pro • 14 Pro Max • 15 • 15 Plus • 15 Pro • 15 Pro Max
Samsung Galaxy S4 • S5 • S6 • S7 • S8 • S8+ • S9 • S9+ • S10 • S10e • S10+ • S20 • S20+ • S20 Ultra • S20 Lite • S20 FE • S21 • S21+ • S21 Ultra • S21 FE • S22 • S22+ • S22 Ultra • S23 • S23+ • S23 Ultra
The cover / case is made of Flexible Rubber or Hard Plastic (for the oldest models) and a Printed Aluminum Insert.
The image is permanently infused into the aluminum that will not crack, fade, chip, or peel (we do not use stickers or decals).
Easy access to all buttons and features of your phone, plug your charger cable, and headset without removing the case.
The Smartphone is not included. You will receive 1 (one) Smartphone case / cover / skin only.
This Smartphone Case is brand new with a tag. It is in stock, packed in a bubble bag, and ready to ship.
This product was designed, printed & packed in the USA.
* Ford or any other marks are registered trademarks. Our products are not approved by any of these manufacturers and trademarks. We do not imply any association with these manufacturers and references are based on historical information in the public domain.