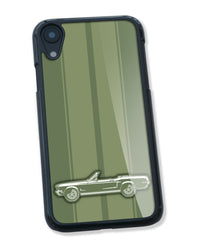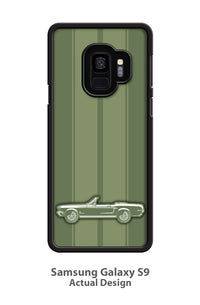 1968 Ford Mustang Base Convertible Smartphone Case - Racing Stripes
Product Code:
1968_FORD_MUST_CV_GEN_PHONE_STRP_BRIT
1968 Ford Mustang Base Convertible Cell Phone Case for Smartphone
In 1968, the Mustang became a movie start, starting a long career. A GT390 2+2 in Highland Green captures millions of movie goers, playing a starring role in the Steve McQueen film Bullitt. 
There were few changes for the 1968 Mustang compared to its 1967 counterpart. Most of the changes were in subtle refinements to the exterior and interior. The horizontal grille bars and the F-O-R-D letters at the front of the hood were removed. The quarter panel ornament was modified and many safety features were added. New options for 1968 included rear window demist (coupe and fastback only), re-designed front disc brakes, an AM/FM stereo radio, and an all-new 302 CI. engine. The 302-4V with 230 horsepower replaced the 289 by December of 1967. To comply with new government regulations, the 1968 Mustang received front and rear side marker lights, an energy-absorbing steering column, and folding, flush-mounted interior door pulls. For 1968, Ford produced 317,404 examples of the Mustang. Just over 25,300 were Convertibles. Approximately 9,228 were the S-Code 390. The 390CID 'S-Code' Mustang was produced between 1967 through 1969, and offered 325 horsepower, putting it in close proximity to the 428 Cobra Jets 335 horsepower. The 390 was based on the FE-Series V-8s introduced in 1958 and would remain in the market well into the 1970s.
A game of subtle lights and shadows reveal the magnificent curves of the body of this Legendary American Muscle Car: The 1968 Ford Mustang Base Convertible one of the most influential vehicles of the 20th century. A true Car Legend that lives forever: the 1968 Ford Mustang Base Convertible Cell Phone Case for Apple iPhone and Samsung Galaxy Smartphones!
Available in:
Silver Grey • British Green • LeMans Blue • Italian Red • Military Green • Good Orange • Oil Black • Racing Blue
for:
Apple iPhone 4 • 4s • 5 • 5s • 5SE • 6 • 6s • 6 Plus • 6s Plus • 7 • 7 Plus • 8 • 8 Plus • X • XS • XS Max • XR • 11 • 11 Pro • 11 Pro Max • 12 • 12 Mini • 12 Pro • 12 Max
Samsung Galaxy S4 • S5 • S6 • S7 • S8 • S8+ • S9 • S9+ • S10 • S10e • S10+ • S20 • S20+ • S20 Ultra • S20 Lite • S20 FE • S21 • S21+ • S21 Ultra • S21 FE • S22 • S22+ • S22 Ultra • S23 • S23+ • S23 Ultra
The cover / case is made of Flexible Rubber or Hard Plastic (for the oldest models) and a Printed Aluminum Insert.
The image is permanently infused into the aluminum that will not crack, fade, chip, or peel (we do not use stickers or decals).
Easy access to all buttons and features of your phone, plug your charger cable, and headset without removing the case.
The Smartphone is not included. You will receive 1 (one) Smartphone case / cover / skin only.
This Smartphone Case is brand new with tag. It is in stock, packed in bubble bag and ready to ship.
This product was designed, printed & packed in the USA.
* Ford or any other marks are registered trademarks. Our products are not approved by any of these manufacturers and trademarks. We do not imply any association with these manufacturers and references are based on historical information in the public domain.