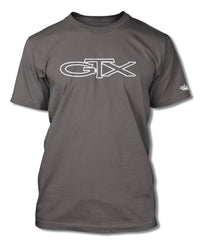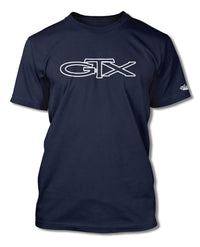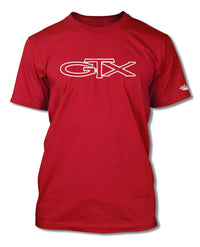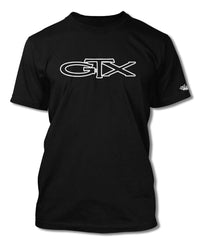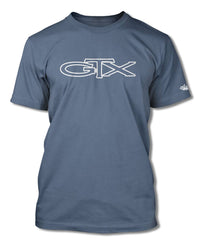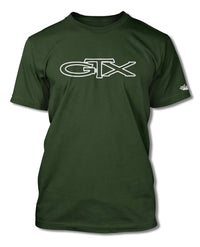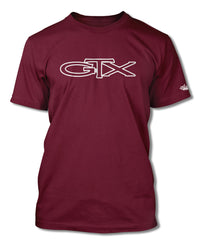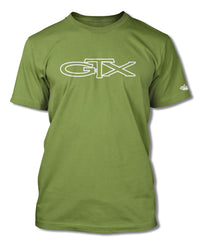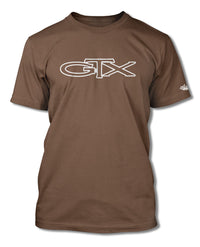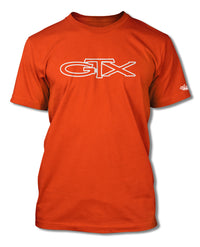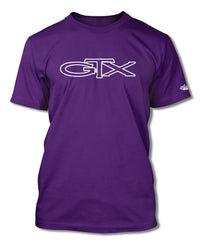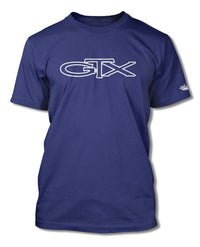 1967 - 1971 Plymouth GTX Emblem T-Shirt - Men - Emblem
Product Code:
PLY_LOGO_GTX_S_BLK
Plymouth GTX 1967 - 1971 Logo T-Shirt for Men - Emblem
Plymouth introduced the GTX as an optional package on the Belvedere model line. The car was a two-door vehicle that could be purchased in either convertible or hardtop configuration, and had all the performance options pre-installed and packaged in a blend of style and performance. Standard power for the high-performance GTX was a 440 cubic-inch four-barrel V-8 engine that developed 375 horsepower. As an option, the mighty 426 'Street Hemi,' which produced 425 horsepower, later Plymouth added the 440+6, based on the 440 cubic-inch engine, that produced 390 horsepower. The GTX was known for its superb handling, thanks to standard six-leaf rear springs, heavy duty shocks, ball joints and torsion bars.
A game of subtle lights and shadows reveal the magnificent Emblem of the Plymouth GTX 1967 - 1971, a Legendary American Muscle Car. Detailed and harmonious, the artistic illustration has grabbed the essence of one of the most influential vehicle of the 20th century and is printed in front of the tee. Refine and stylish, it is a perfect wear for any occasion and to show your passion for a true Legend that lives forever: the Plymouth GTX 1967 - 1971 Emblem Short Sleeve T-Shirt.
The featured original artwork has been printed on a high-quality 6.0 oz 100% pre-shrunk American cotton t-shirt.
Seamless double-needle collar - sleeve bottom hems.
It is available in Black, Charcoal, Cherry Red, Forest Green, Indigo Blue, Kiwi, Maroon, Navy Blue, Nuts, Military Green, Orange, Purple, Rust, and Steel Blue
in sizes S - M - L - XL - 2XL - 3XL
*4 Extra Large (4XL), 5 Extra Large (5XL), and Extra Tall (XT) t-shirts are available through special order. Please contact us for colors' availability, pricing and estimated delivery.
*Plymouth or any other marks are registered trademarks. Our products are not approved by any of these manufacturers and trademarks. We do not imply any association with these manufacturers and references are based on historical information in the public domain.