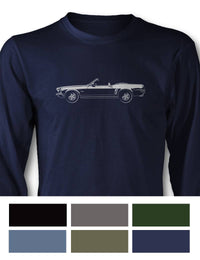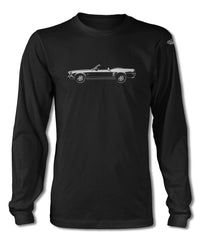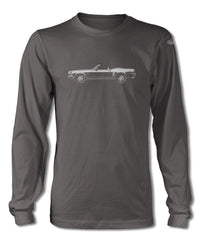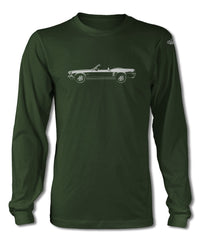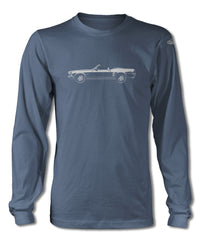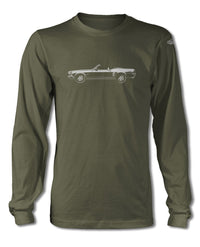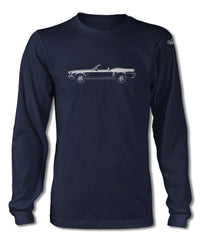 1969 Ford Mustang Base Convertible T-Shirt - Long Sleeves - Side View
Product Code:
1969_FORD_MUST_CV_GEN_LS_BLK_S
1969 Ford Mustang Base Convertible Long Sleeve T-Shirt
Nearly 300,000 examples of the Mustang were produced in 1969. The base engine was six-cylinder unit, other engine options included the 302, 351, 390, 428, and the 429 CID in various setups with horsepower ranging from 220 to 370 horsepower. Body styles included a hardtop coupe, fastback coupe, convertible, Grande hardtop, and Mach 1 Fastback. Exterior changes were rather significant, now with quad headlights and the side scoop was repositioned higher on the rear fenders for fastback models. They now faced rearward on the convertibles and hardtops. 1969 was certainly the benchmark year for Ford Mustang in its proliferation of performance names and engines. There were no less than 6 factory performance Mustang models offered including the GT, Boss 302, Boss 429, Mach 1, Shelby GT350 and Shelby GT500. The Mach 1 proved popular which ultimate lead Ford to discontinue the GT model after 1969. A total of 5,396 examples of the GT were produced in 1969 versus the 72,458 sales for the Mach 1. The GT badge would not re-appear on the Mustang again until 1982.
A game of subtle lights and shadows reveal the magnificent curves of the body of the 1969 Ford Mustang Base Convertible, a Legendary American Muscle Car. Detailed and harmonious, the artistic illustration grabs the essence of one of the most influential vehicles of the 20th century and is printed in front of the tee. Refine, stylish, and elegant this is the perfect wear for any occasion and to show your passion for a true Legend that lives forever: the 1969 Ford Mustang Base Convertible Long Sleeve T-Shirt.
The featured original artwork has been printed on a high-quality 6.0 oz 100% pre-shrunk American cotton t-shirt.
Seamless double-needle collar - sleeve & bottom hems.
It is available in Black, Charcoal, Indigo, Forest Green, Navy & Military Green
in sizes S - M - L - XL - 2XL - 3XL
* Dodge or any other marks are registered trademarks. Our products are not approved by any of these manufacturers and trademarks. We do not imply any association with these manufacturers and references are based on historical information in the public domain.