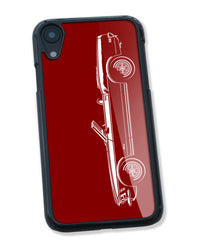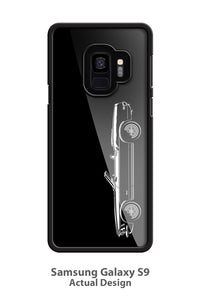 1970 Ford Mustang Base Convertible Smartphone Case - Side View
Product Code:
1970_FORD_MUST_CV_GEN_BIG_BLK
1970 Ford Mustang Base Convertible Cell Phone Case for Smartphone
In 1970, Ford ceased its official racing activities, but not before the Bud Moore-prepared Mustang Boss 302 won the Trans Am title, with drivers Parnelli Jones and George Follmer. The Ford Mustang Mach 1 was also triumphant in the SCCA Manufacturer's Rally Championship. The lessons learned through racing were instrumental in improvements made to the Mustang throughout the years. In 1970, driving a Mustang made a statement. Trend setter Mary Richards drove a white coupe on the iconic Mary Tyler Moore show and the bad guys, driving a Mach 1, out ran the patrol car on Adam-12. The 1970 model year Mustangs were restyled to be less aggressive and therefore returned to single headlamps which were moved to the inside of the grille opening with 'fins' on the outside of the grille sides. The styling of the 1969 model was deemed for a drop in sales and this prompted the headlamp revisions and simplification of other exterior styling aspects for 1970. In the end, however, the 1969 model year sales exceeded those of 1970. The rear fender air scoops were removed and the taillight panel was now flat instead of concave as seen on 1969 models. The interior options remained mostly unchanged. 1970 model year saw the previous 351W V8 engine options replaced with a new 351 cu in (5.8 L) Cleveland (351C) V8 in either 2V (2-venturi carburetor) or 4V (4-venturi carburetor) versions. This new performance engine incorporated elements learned from the Ford 385 series engine and the Boss 302, particularly the poly-angle combustion chambers with canted valves and the thin-wall casting technology. Ford made 96 'Mustang Twister Special' cars for Kansas Ford dealers in late 1969. The Twister Specials were Grabber Orange Mach 1s with special decals. Ford also made a few 'Sidewinders', which were built in Dearborn, shipped to Omaha, and sold in Iowa and Nebraska. They were available in Grabber Green, Grabber Blue, Calypso Coral, and Yellow. The stripes came in the trunk to be installed by dealers.
A game of subtle lights and shadows reveals the magnificent curves of the body of this Legendary American Muscle Car: 1970 Ford Mustang Base Convertible one of the most influential vehicles of the 20th century. A true Car Legend that lives forever: the 1970 Ford Mustang Base Convertible Case for Apple iPhone and Samsung Galaxy Smartphones!
Available in:
Silver Grey • British Green • LeMans Blue • Italian Red • Military Green • Good Orange • Oil Black • Racing Blue
for:
Apple iPhone 4 • 4s • 5 • 5s • 5SE • 6 • 6s • 6 Plus • 6s Plus • 7 • 7 Plus • 8 • 8 Plus • X • XS • XS Max • XR • 11 • 11 Pro • 11 Pro Max • 12 • 12 Mini • 12 Pro • 12 Max
Samsung Galaxy S4 • S5 • S6 • S7 • S8 • S8+ • S9 • S9+ • S10 • S10e • S10+ • S20 • S20+ • S20 Ultra • S20 Lite • S20 FE • S21 • S21+ • S21 Ultra • S21 FE • S22 • S22+ • S22 Ultra • S23 • S23+ • S23 Ultra
The cover / case is made of Flexible Rubber or Hard Plastic (for the oldest models) and a Printed Aluminum Insert.
The image is permanently infused into the aluminum that will not crack, fade, chip, or peel (we do not use stickers or decals).
Easy access to all buttons and features of your phone, plug your charger cable, and headset without removing the case.
The Smartphone is not included. You will receive 1 (one) Smartphone case / cover / skin only.
This Smartphone Case is brand new with a tag. It is in stock, packed in a bubble bag, and ready to ship.
This product was designed, printed & packed in the USA.
* Ford or any other marks are registered trademarks. Our products are not approved by any of these manufacturers and trademarks. We do not imply any association with these manufacturers and references are based on historical information in the public domain.