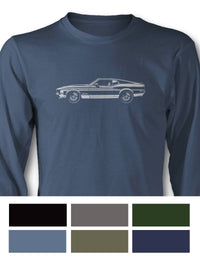 1971 Ford Mustang BOSS 351 T-Shirt - Long Sleeves - Side View
Product Code:
1971_FORD_MUST_BOSS_351_LS_BLK_S
1971 Ford Mustang BOSS 351 Sportsroof Long Sleeve T-Shirt
The SCCA Trans-Am racing-inspired Boss returned for 1971, but with a 351 cubic-inch engine. The new 'Cleveland' engine featured free-breathing 'big-port' cylinder heads and a solid-lifter valvetrain, with induction via a large 750-cfm Autolite carburetor. Other features included a heavy-duty suspension, four-speed manual transmission, and a 3.91:1 rear end gears. Distinguishable features including Special Boss 351 graphics and a flat-black hood. Acceleration was impressive with zero-to-sixty sprints taking less than 6.0 seconds. The quarter-mile times were achieved in 13.8 seconds at over 100 mph.
A game of subtle lights and shadows reveal the magnificent curves of the body of the 1971 Ford Mustang BOSS 351 Sportsroof, a Legendary American Muscle Car. Detailed and harmonious, the artistic illustration grabs the essence of one of the most influential vehicles of the 20th century and is printed in front of the tee. Refine, stylish, and elegant this is the perfect wear for any occasion and to show your passion for a true Legend that lives forever: the 1971 Ford Mustang BOSS 351 Sportsroof Long Sleeve T-Shirt.
The featured original artwork has been printed on a high-quality 6.0 oz 100% pre-shrunk American cotton t-shirt.
Seamless double-needle collar - sleeve & bottom hems.
It is available in Black, Charcoal, Indigo, Forest Green, Navy & Military Green
in sizes S - M - L - XL - 2XL - 3XL
* Ford or any other marks are registered trademarks. Our products are not approved by any of these manufacturers and trademarks. We do not imply any association with these manufacturers and references are based on historical information in the public domain.