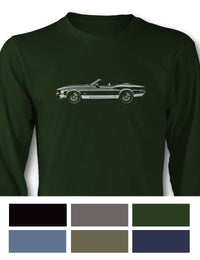 1971 Ford Mustang Sports with Stripes Convertible T-Shirt - Long Sleeves - Side View
Product Code:
1971_FORD_MUST_CV_STRP_LS_BLK_S
1971 Ford Mustang Sports with Stripes Convertible Long Sleeve T-Shirt
Ford's 1971 through 1973 Mustangs was the final generation to be influenced by 'Bunkie' Knudsen, the legendary former GM executive. The biggest Mustang designed, it was enlarged to meet buyer's requests for more luxury features, and Ford dealer demand for larger engine bays to ease under-hood access for service and maintenance. The larger bay also allowed for larger big-block performance engines. The wheelbase was increased to 109 inches for the first time, and even though they had a larger overall visual presence, the 1971 through 1973 were in fact only marginally larger than their predecessors. The style and design were both bold and distinctive. The European GT-influenced design featured a broad grille, wraparound 1969-1970 GT-style front bumper, and a long, wide hood upfront. The 'Sportsroof' featured a nearly flat roofline, sloping below the horizontal plane by just 14 degrees. The Mustang hardtop coupe was more formal with a fashionably tunneled rear window and 'flying buttresses.' The inside featured a twin-cove dash design, deeply tunneled instrumentation, and a prominent center stack housing the radio and climate controls. Luxury options and amenities were abundant and catered to the mature buyers of the era.
A game of subtle lights and shadows reveal the magnificent curves of the body of the 1971 Ford Mustang Sports with Stripes Convertible, a Legendary American Muscle Car. Detailed and harmonious, the artistic illustration grabs the essence of one of the most influential vehicles of the 20th century and is printed in front of the tee. Refine, stylish, and elegant this is the perfect wear for any occasion and to show your passion for a true Legend that lives forever: the 1971 Ford Mustang Sports with Stripes Convertible Long Sleeve T-Shirt.
The featured original artwork has been printed on a high-quality 6.0 oz 100% pre-shrunk American cotton t-shirt.
Seamless double-needle collar - sleeve & bottom hems.
It is available in Black, Charcoal, Indigo, Forest Green, Navy & Military Green
in sizes S - M - L - XL - 2XL - 3XL
* Ford or any other marks are registered trademarks. Our products are not approved by any of these manufacturers and trademarks. We do not imply any association with these manufacturers and references are based on historical information in the public domain.