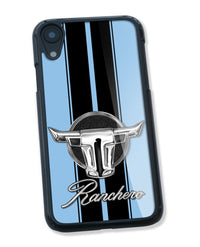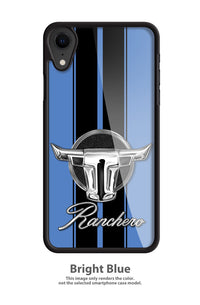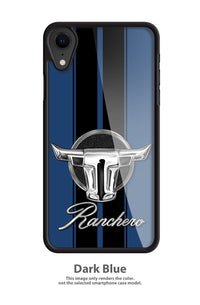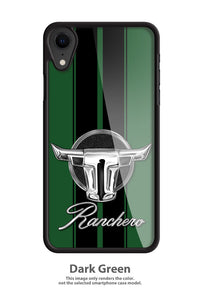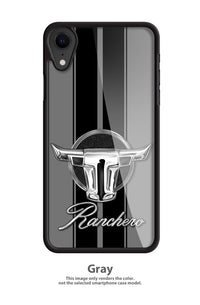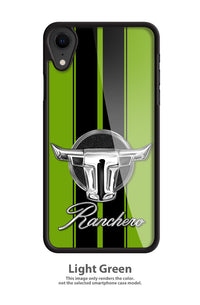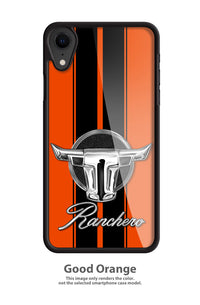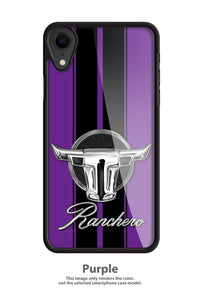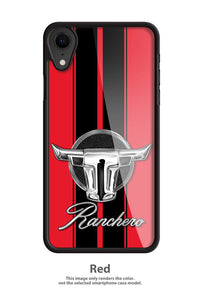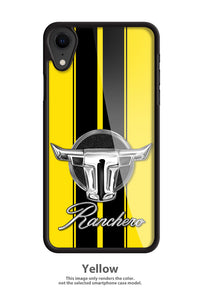 1968 - 1971 Ford Ranchero Emblem Smartphone Case - Emblem
Product Code:
68_71_RANCH_EMBLEM_PHONE_BLACK
1968 - 1971 Ford Ranchero Emblem Cell Phone Case for Smartphone
In 1968, the Fairlane line was supplemented by the new Torino, and the Ranchero followed suit, becoming the largest model since the full-sized 1959. Overall, the new Ranchero was bigger. The interior was all new, as well, sharing the Torino/Fairlane's distinctive four-pod instrument cluster. The model line also featured wraparound front side marker lamps which doubled as parking lights and rear side reflectors, newly mandated by US law. Three trim levels were offered, beginning with the sparsely trimmed base Ranchero, the Ranchero 500 trimmed like the corresponding Fairlane 500, and the top-of-the line Ranchero GT with its Torino GT trim. Like the Torino/Fairlane, the Ranchero could be had with virtually all of the same options as its cousins, including air conditioning, bucket seats, center console, AM/FM radio, optional wheels, front power disc brakes, hood scoop (standard on GT), and even a vinyl top. Changes across the 1969 model line were slight and included a flatter three-piece grille less the horizontal crossbar and Ford crest, relocation of GT grille badging from the crest to the lower right corner of the grille as viewed from the front, a change from black-faced instruments with white numerals to brushed aluminum with black numerals and a slimmer. 1970 had a complete restyle for the Ranchero, which had started with a boxy body style. Both the Torino and Ranchero featured a shallow-pointed grille and front end with smooth, somewhat more curvaceous lines influenced by coke bottle styling. A fourth trim option was made available in 1970. The Ranchero Squire was an upmarket trim package which featured a woodgrain applique. The 1971 is distinguished by a grille divided by a center section. A minor but nevertheless important variation debuted with the 1970 model. Prior to 1970, no Ranchero had any interior badging identifying it as such. With the 1970 model came a "Ranchero" or "Ranchero GT" badge on the glove compartment rather than Fairlane or Torino badging.
Perfect for all car enthusiasts, this smartphone case shows the magnificent 1968 - 1971 Ford Ranchero Emblem on a colorful background with racing stripes. The harmonious, accurate, and elegant illustration reveals the beauty of the emblem / badge of one of the most influential American muscle car, coupe utility of the 20th century. Choose between 12 different colors to customize your case to its fullest. Refine and stylish, the 1968 - 1971 Ford Ranchero Emblem is the perfect way to show your passion any time you'll use your smartphone. The Cell Phone Cases are available for Apple iPhone and Samsung Galaxy Smartphones.
Available in:
Oil Black • Bright Blue • Dark Blue • Red • Dark Red • Dark Green • Good Orange • Light Blue • Gray • Purple • Light Green • Yellow
for:
Apple iPhone 4 • 4s • 5 • 5s • 5SE • 6 • 6s • 6 Plus • 6s Plus • 7 • 7 Plus • 8 • SE • 8 Plus • X • XS • XS Max • XR • 11 • 11 Pro • 11 Pro Max • 12 Mini • 12 • 12 Pro • 12 Pro Max • 13 Mini • 13 • 13 Pro • 13 Pro Max • 13 Mini • 14 • 14 Plus • 14 Pro • 14 Pro Max • 15 • 15 Plus • 15 Pro • 15 Pro Max
Samsung Galaxy S4 • S5 • S6 • S7 • S8 • S8+ • S9 • S9+ • S10 • S10e • S10+ • S20 • S20+ • S20 Ultra • S20 Lite • S20 FE • S21 • S21+ • S21 Ultra • S21 FE • S22 • S22+ • S22 Ultra • S23 • S23+ • S23 Ultra
The cover / case is made of Flexible Rubber or Hard Plastic (for the oldest models) and a Printed Aluminum Insert.
The image is permanently infused into the aluminum that will not crack, fade, chip, or peel (we do not use stickers or decals).
Easy access to all buttons and features of your phone, plug your charger cable, and headset without removing the case. (inductive charging is not supported)
The Smartphone is not included. You will receive 1 (one) Smartphone case / cover / skin only.
This Smartphone Case is brand new with tag. It is in stock, packed in a bubble bag, and ready to ship.
This product is designed, printed & packed in the USA.
* Ford or any other marks are registered trademarks. Our products are not approved by any of these manufacturers and trademarks. We do not imply any association with these manufacturers and references are based on historical information in the public domain.