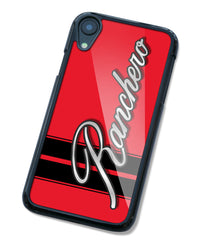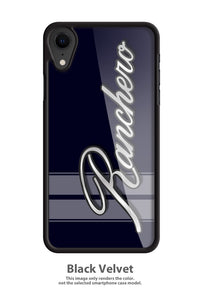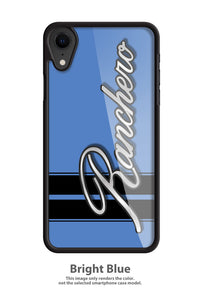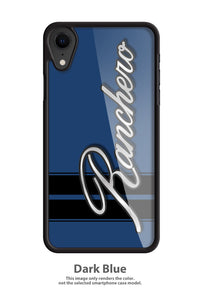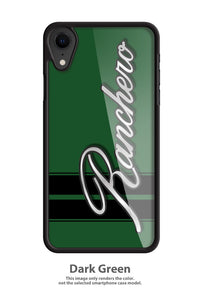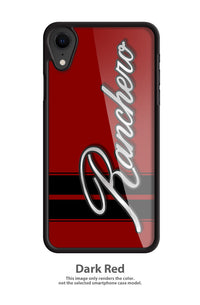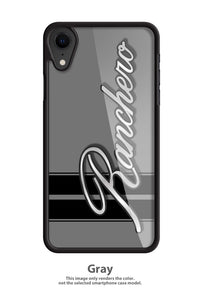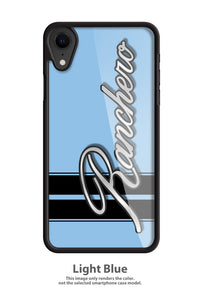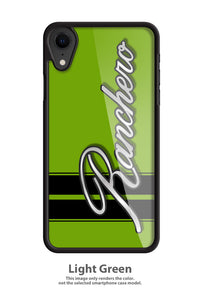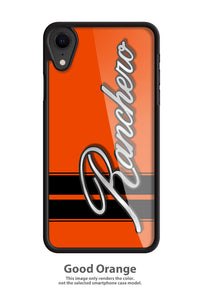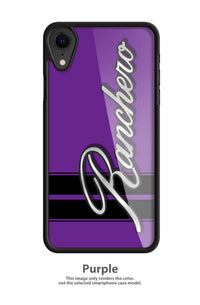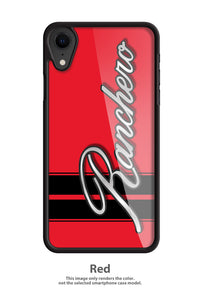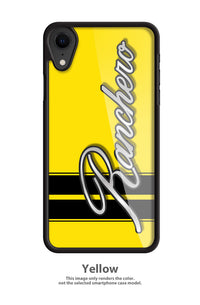 1972 - 1976 Ford Ranchero Front Fender Emblem Smartphone Case - Emblem
Product Code:
72_76_RANCH_EMBLEM_PHONE_BLACK
1972 - 1976 Ford Ranchero Front Fender Emblem Cell Phone Case for Smartphone
In 1972, a radical change occurred in the Torino and Ranchero lines. The sleek, pointy look of the previous year's model was replaced with a larger, heavier design. Most prominent was a wide semi-oval grille reminiscent of a jet intake and a new body-on-frame design. Three models were still available; the now-standard 500, the new Squire with simulated woodgrain "paneling" along the flanks, and the sporty GT. Engine choices remained basically the same beginning with the 250 cubic-inch six-cylinder and a selection of V8s that ranged from the standard 302 to Cleveland and Windsor series 351s, plus the new-for-1972 400. The 385-series V8 (the 429 for 1972-73; the 460 for 1974-76) was still available. However, all suffered from lower compression ratios to better meet new emissions standards and output decrease dramatically. The 351 cu in (5.8 L) Cleveland could still be obtained in tuned 4-V Cobra Jet form through 1974. A four-speed manual transmission was available on Cobra Jet-powered GT models. The design lasted for only one year, as Ford had to restyle the front fascia to meet new U.S. standards for front impact protection. Ford ditched the semi-oval grille and the wraparound bumpers, opting for a square intake and a simpler, but more massive apron. The fascia was revised once again for 1974 when a pointy grille and bumper were introduced. It's the generation that marked the end of the road for the Ranchero as a muscle utility vehicle. It was also the last Ranchero based on the Torino, which ended production in 1976.
Perfect for all car enthusiasts, this smartphone case shows the magnificent 1972 - 1976 Ford Ranchero Front Fender Emblem on a colorful background with racing stripes. The harmonious, accurate, and elegant illustration reveals the beauty of the emblem / badge of one of the most influential American muscle car, coupe utility of the 20th century. Choose between 12 different colors to customize your case to its fullest. Refine and stylish, the 1972 - 1976 Ford Ranchero Front Fender Emblem is the perfect way to show your passion any time you'll use your smartphone. The Cell Phone Cases are available for Apple iPhone and Samsung Galaxy Smartphones.
Available in:
Oil Black • Bright Blue • Dark Blue • Red • Dark Red • Dark Green • Good Orange • Light Blue • Gray • Purple • Light Green • Yellow
for:
Apple iPhone 4 • 4s • 5 • 5s • 5SE • 6 • 6s • 6 Plus • 6s Plus • 7 • 7 Plus • 8 • SE • 8 Plus • X • XS • XS Max • XR • 11 • 11 Pro • 11 Pro Max • 12 Mini • 12 • 12 Pro • 12 Pro Max • 13 Mini • 13 • 13 Pro • 13 Pro Max • 13 Mini • 14 • 14 Plus • 14 Pro • 14 Pro Max • 15 • 15 Plus • 15 Pro • 15 Pro Max
Samsung Galaxy S4 • S5 • S6 • S7 • S8 • S8+ • S9 • S9+ • S10 • S10e • S10+ • S20 • S20+ • S20 Ultra • S20 Lite • S20 FE • S21 • S21+ • S21 Ultra • S21 FE • S22 • S22+ • S22 Ultra • S23 • S23+ • S23 Ultra
The cover / case is made of Flexible Rubber or Hard Plastic (for the oldest models) and a Printed Aluminum Insert.
The image is permanently infused into the aluminum that will not crack, fade, chip, or peel (we do not use stickers or decals).
Easy access to all buttons and features of your phone, plug your charger cable, and headset without removing the case. (inductive charging is not supported)
The Smartphone is not included. You will receive 1 (one) Smartphone case / cover / skin only.
This Smartphone Case is brand new with tag. It is in stock, packed in a bubble bag, and ready to ship.
This product is designed, printed & packed in the USA.
* Ford or any other marks are registered trademarks. Our products are not approved by any of these manufacturers and trademarks. We do not imply any association with these manufacturers and references are based on historical information in the public domain.