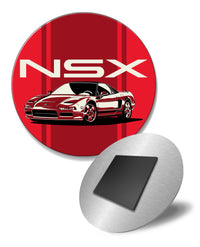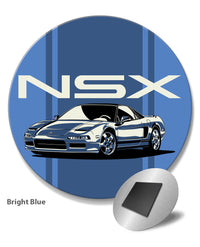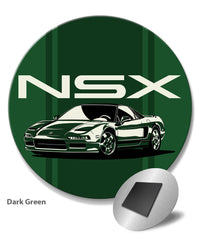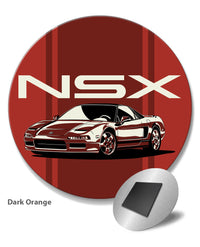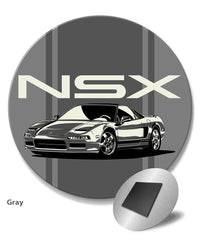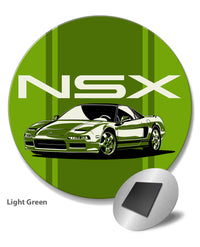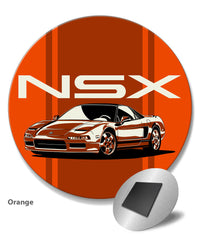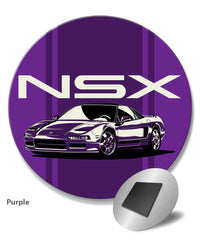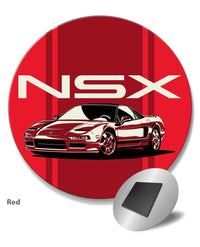 Acura - Honda NSX 3/4 Front View Emblem Round Fridge Magnet
Product Code:
NSX_3/4_FRONT_EMBLEM_RD_MAG_BLK
Vintage Acura - Honda NSX 3/4 Front View Emblem Novelty Round Fridge Magnet

March 1986, marketing luxury, performance and high-performance vehicles. Acura holds the distinction of being the first Japanese automotive luxury brand and was among the best-selling luxury marques in the US. In 1990, Acura introduced the NSX, an acronym for "New Sports eXperimental", was builded as the first Japanese car capable of competing with Ferrari and Porsche and therefore entering the Legend.
Perfect for all car enthusiasts that want to show their passion for their Acura - Honda NSX. This 2.25" (57 mm) round magnet will look so cool on your fridge, tool box, metal shelving, or anywhere you want, as long as it's ferromagnetic. It is quality made of .045" Aluminum that will not fade or break and a1/2 inch square magnet in the back. Make room on the fridge, you deserve a special decoration spot in the middle of the other fridge magnets. Stick it to anything you'll like on your desk, car, workbench, toolbox, or man cave board. Choose between 14 different colors that contrast beautifully with the vintage Acura - Honda NSX emblem. For any car guy, this is the ideal gift to add style and show their passion, even in the middle of the kitchen.
Available in: Red - Purple - Light Green - Orange - Yellow - Pink - Bright Blue - Light Blue - Black Velvet - Dark Orange - Dark Green - Dark Blue - Gray - White
- Made of 0.045" (1.14 mm) Aluminum
- 2.25" (57.2 mm) diameter
- Durable aluminum material
- Water-resistant & easy to clean
- 1" backer magnet for adhesion
Made in USA

Acura Official Licensed Product. Designed, manufactured and distributed by or for Venice Enterprises, LLC. Acura, the "A" logo, Acura vehicles and their trade dress, and all associated vehicles emblems, logos, marks and names are trademarks and intellectual property of Honda Motor Co., Ltd., used under license from American Honda Motor Co.,Inc. All Rights Reserved.