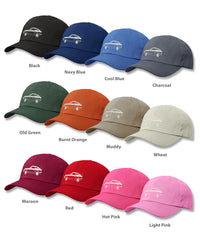 Austin Mini Cooper Baseball Cap for Men & Women
Product Code:
AUST_MINI_SDLND_CAP_BLK
Austin Mini Cooper 1961 - 2000 Baseball Cap for Men and Women
In 1959, The British Motor Corporation created a fuel-efficient, affordable vehicle equipped with the smallest wheels: the Mini! John Cooper, winner of the F1 championships in 1959 and 1960, jump in the game and offered a sport version: The Mini Cooper. From 1964 through 1967 the little car dominated the Rally world and easily achieved these victories using a 91 hp engine. It became the signature of a sporty and agile small car with incredible go-kart feeling appreciated by drivers and so fun to drive.
A game of subtle lights and shadows reveal the magnificent curves of the Austin Mini Cooper, a Legendary British Classic Car. Detailed and harmonious, the artistic illustration has captured the essence of one of the most influential vehicle of the 20th century and is embroidered on the front of our caps.
​Refined and stylish, it is the perfect head protection for a long sunny drive in your convertible or a cool wear for any occasion to show your passion for a true Legend: the Austin Mini Cooper Baseball Cap Hat for Men and Women.
The featured original artwork has been embroidered on a high quality 100% cotton solid six-panel low-profile twill cap:
• Unconstructed crown with top button and eyelets on side panels
• Matching color sweatband
• Pre-curved bill with four rows of stitching
• Closure consists of a fabric band with brass buckle and brass grommet hideaway closure or velcro bands.

It is available in Black , Burnt Orange , Charcoal , Cool Blue , Hot Pink , Light Pink , Maroon , Muddy , Navy Blue , Old Green, Red and Wheat in one size fits all.

WARNING: Every monitor displays colors differently. Our pictures and color swatches represent the closest approximation of the colors we provide, not a guarantee.

*Austin or any other marks are registered trademarks. Our products are not approved by any of these manufacturers and trademarks. We do not imply any association with these manufacturers and references are based on historical information in the public domain.