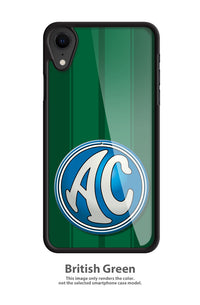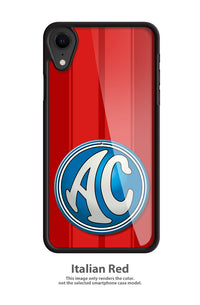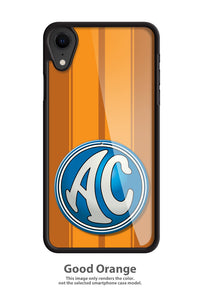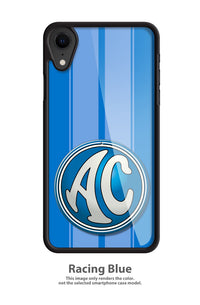 AC Emblem Smartphone Case - Racing Stripes
Product Code:
AC_RAF_EMBLEM_STRP_BRIT
Vintage AC Emblem Cell Phone Case for Smartphone
AC Cars, originally incorporated as Auto Carriers Ltd., is a British specialist automobile manufacturer and one of the oldest independent car makers founded in Britain. As a result of financial problems over the years, the company was renamed or liquidated many times until its present form. The first car from what eventually became AC was presented in 1903 by The Weller brothers. Forward several years to September 1961, when AC was approached by Carroll Shelby to use a small block Ford V8 engine in the Ace chassis, producing the AC Cobra. Shelby needed a car that could compete with the Chevrolet Corvette in US sports car racing. Only a single example was built (CSX 2000) using a Ford 221 Windsor V8. It debuted in 1962 with a Ford 260 V8 engine. This was then superseded by the Ford 289 V8 engine. The resulting Cobra was a very powerful roadster, and it is commonly blamed for the introduction of the 70 mph (110 km/h) limit on British motorways. At the end of the 1964 racing season, the Cobra was being outclassed in sports car racing by F******. Carroll Shelby decided he needed a bigger engine. A big block Ford FE series 390 V8 was installed in a Cobra but it was over powered and the car was now almost undrivable.
A beautiful and detailed design of the vintage AC emblem, a Legendary Britsh Automobile. Harmonious, accurate and elegant, the design reveals your interest and passion for this iconic and most influential vehicle of the 20th century. It contrasts magnificently with any chosen colors of the smartphone's case . Refine and stylish, it is a perfect for showing your passion for a true Legend that lives forever: the vintage AC Emblem Cell Phone Case for Apple iPhone and Samsung Galaxy Smartphones!
Available in: Silver Grey • British Green • LeMans Blue • Italian Red • Military Green • Good Orange • Oil Black • Racing Blue
for: Apple iPhone 4 • 4s • 5 • 5s • 5SE • 6 • 6s • 6 Plus • 6s Plus • 7 • 7 Plus • 8 • SE • 8 Plus • X • XS • XS Max • XR • 11 • 11 Pro • 11 Pro Max • 12 Mini • 12 • 12 Pro • 12 Pro Max • 13 Mini • 13 • 13 Pro • 13 Pro Max • 13 Mini • 14 • 14 Plus • 14 Pro • 14 Pro Max • 15 • 15 Plus • 15 Pro • 15 Pro Max
Samsung Galaxy S4 • S5 • S6 • S7 • S8 • S8+ • S9 • S9+ • S10 • S10e • S10+ • S20 • S20+ • S20 Ultra • S20 Lite • S20 FE • S21 • S21+ • S21 Ultra • S21 FE • S22 • S22+ • S22 Ultra • S23 • S23+ • S23 Ultra
The cover / case is made of Flexible Rubber or Hard Plastic (for the oldest models) and a Printed Aluminum Insert.
The image is permanently infused into the aluminum that will not crack, fade, chip, or peel (we do not use stickers or decals).
The case is NOT compatible with wireless charger.
Easy access to all buttons and features of your phone, plug your charger cable, and headset without removing the case.
The Smartphone is not included. You will receive 1 (one) Smartphone case / cover / skin only.
This Smartphone Case is brand new with tag. It is in stock, packed in bubble bag and ready to ship.
This product was designed, printed & packed in the USA.
* AC or any other marks are registered trademarks. Our products are not approved by any of these manufacturers and trademarks. We do not imply any association with these manufacturers and references are based on historical information in the public domain.