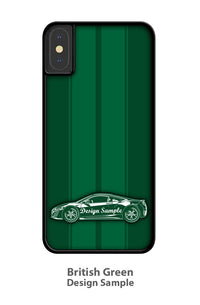 1955 Oldsmobile Super 88 Junior Johnson Smartphone Case - Racing Stripes
Product Code:
1955_OLDS_SUPER88_JJOHNSON_SEDAN_STRP_BRIT
1955 Oldsmobile Super 88 Junior Johnson

Robert Glenn Johnson Jr. (June 28, 1931 – December 20, 2019), better known as Junior Johnson, was an American NASCAR driver of the 1950s and 1960s. He won 50 NASCAR races in his career before retiring in 1966. Robert Glenn Johnson Jr. was working the ground of the Johnson family farm behind a mule when his older brother, L.P., offered him the chance to drive a race car. Junior knew almost nothing about racing, but he had driven fast cars making moonshine deliveries from the Johnson family's other "business" along Carolina backroads, so he hesitated only a moment before heading to the track. He needed a minute—he had been plowing barefooted, so he figured he needed to head to the house to get shoes to race. "When I got into racing, I already had the experience I needed," Johnson said years later. "I didn't have to learn how to drive fast. I already knew how to do it." In 1955, Johnson began his career as a NASCAR driver (No. 55). In his first full season, he won five races and finished sixth in the 1955 NASCAR Grand National points standings. He was driving the D&L Motors 1955 Oldsmobile owned by Jim Lowe and Carl Beckham, a Super 88 2 doors sedan equipped with the powerful Rocket V8 engine. In those days, beating Junior Johnson on a dirt track was a big deal. Competitors often needed a smart, slick move to deny Johnson, a driver from the old-school mold who squeezed engines, tires and frames for all they were worth. For Johnson, it often was win or crash.<
A game of subtle lights and shadows reveal the magnificent curves of the body of this Legendary American Car: 1955 Oldsmobile Super 88 Junior Johnson one of the most influential vehicles of the 20th century. A true Car Legend that lives forever.
The harmonious, accurate, and elegant illustration of the 1955 Oldsmobile Super 88 Junior Johnson is printed on an aluminum insert featuring a colorful color background with racing stripes.
Available in 8 several bright colors, it will not peel or fade. The Cell Phone Cases are available for Apple iPhone and Samsung Galaxy Smartphones.
Available in:
Silver Grey • British Green • LeMans Blue • Italian Red • Military Green • Good Orange • Oil Black • Racing Blue
for:
Apple iPhone 4 • 4s • 5 • 5s • 5SE • 6 • 6s • 6 Plus • 6s Plus • 7 • 7 Plus • 8 • 8 Plus • X • XS • XS Max • XR • 11 • 11 Pro • 11 Pro Max • 12 • 12 Mini • 12 Pro • 12 Max
Samsung Galaxy S4 • S5 • S6 • S7 • S8 • S8+ • S9 • S9+ • S10 • S10e • S10+ • S20 • S20+ • S20 Ultra • S20 Lite • S20 FE • S21 • S21+ • S21 Ultra • S21 FE • S22 • S22+ • S22 Ultra • S23 • S23+ • S23 Ultra
The cover / case is made of Hard Plastic (Flexible Rubber for iPhone 13 & 14 models and Samsung Galaxy S20, S21 and S22 models) and a Printed Aluminum Insert.
The image is permanently infused into the aluminum that will not crack, fade, chip, or peel (we do not use stickers or decals).
Easy access to all buttons and features of your phone, plug your charger cable, and headset without removing the case. (inductive charging is not supported).
The Smartphone is not included. You will receive 1 (one) Smartphone case / cover / skin only.
This Smartphone Case is brand new with tag. It is in stock, packed in a bubble bag and ready to ship.
This product is designed, printed & packed in the USA.
* Oldsmobile or any other marks are registered trademarks. Our products are not approved by any of these manufacturers and trademarks. We do not imply any association with these manufacturers and references are based on historical information in the public domain.