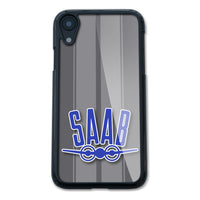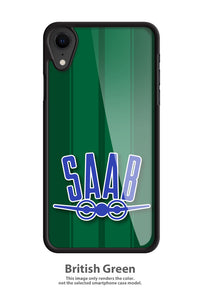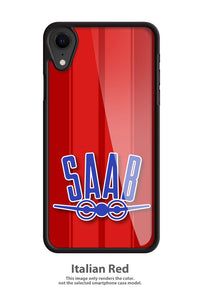 Saab Badge Emblem Smartphone Case - Racing Stripes
Product Code:
SAAB_EMBLEM_STRP_BRIT
Saab Badge Emblem Cell Phone Case for Smartphone
Saab Automobile AB (aktiebolaget - Swedish for "Swedish Aeroplane Corporation") was a Swedish premium car manufacturer. It was formed in 1945 when Saab AB began a project to design a small automobile. The first production model, the Saab 92, was launched in 1949. In 1968 the parent company merged with Scania-Vabis, and ten years later the Saab 900 was launched, in time becoming Saab's best-selling model. In 1989 the automobile division of Saab-Scania was restructured into an independent company, Saab Automobile AB. The American manufacturer General Motors took 50% ownership and then in 2000 exercised its option to acquire the remaining 50%; so turning Saab Automobile into a wholly owned GM subsidiary. In 2010 GM sold Saab Automobile AB to the Dutch automobile manufacturer Spyker Cars N.V. After struggling to avoid insolvency throughout 2011, the company petitioned for bankruptcy following the failure of a Chinese consortium to complete a purchase of the company; the purchase had been blocked by former owner GM, which opposed the transfer of technology and production rights to a Chinese company. A cold blooded Legend...
Be proud of your classic car, show the magnificent emblem of this Legendary automobile brand: Saab, one of the most influential automaker of the 20th century. The badge sits on top of a colorful striped background. Subtle and elegant it is the perfect smartphone case for any car enthusiast, passionate by what came out of Saab's assembly line. The Saab Emblem Badge Cell Phone Case for Apple iPhone and Samsung Galaxy Smartphones!
Available in:
Silver Grey • British Green • LeMans Blue • Italian Red • Military Green • Good Orange • Oil Black • Racing Blue
for:
Apple iPhone 4 • 4s • 5 • 5s • 5SE • 6 • 6s • 6 Plus • 6s Plus • 7 • 7 Plus • 8 • SE • 8 Plus • X • XS • XS Max • XR • 11 • 11 Pro • 11 Pro Max • 12 Mini • 12 • 12 Pro • 12 Pro Max • 13 Mini • 13 • 13 Pro • 13 Pro Max • 13 Mini • 14 • 14 Plus • 14 Pro • 14 Pro Max • 15 • 15 Plus • 15 Pro • 15 Pro Max
Samsung Galaxy S4 • S5 • S6 • S7 • S8 • S8+ • S9 • S9+ • S10 • S10e • S10+ • S20 • S20+ • S20 Ultra • S20 Lite • S20 FE • S21 • S21+ • S21 Ultra • S21 FE • S22 • S22+ • S22 Ultra • S23 • S23+ • S23 Ultra


The cover / case is made of Flexible Rubber or Hard Plastic (for the oldest models) and a Printed Aluminum Insert.
The image is permanently infused into the aluminum that will not crack, fade, chip, or peel (we do not use stickers or decals).
Easy access to all buttons and features of your phone, plug your charger cable, and headset without removing the case.
The Smartphone is not included. You will receive 1 (one) Smartphone case / cover / skin only.
This Smartphone Case is brand new with tag. It is in stock, packed in bubble bag and ready to ship.
This product was designed, printed & packed in the USA.

*Saab or any other marks are registered trademarks. Our products are not approved by any of these manufacturers and trademarks. We do not imply any association with these manufacturers and references are based on historical information in the public domain.