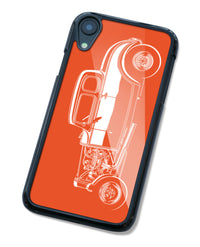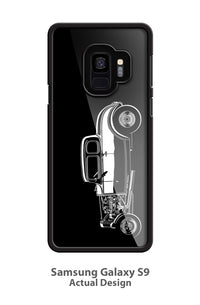 1932 Ford Coupe Milner's Deuce American Graffiti Smartphone Case - Side View
Product Code:
1932_FORD_AMERICAN_GRAFF_BIG_BLK
1932 Ford Coupe Milner's Deuce American Graffiti Cell Phone Case for Smartphone
The 1973 George Lucas breakout film American Graffiti featured an entire cast of future Hollywood stars: Paul Le Mat, Cindy Williams, Harrison Ford, Richard Dreyfuss, Suzanne Somers, Ron Howard, and more. But gearheads could be forgiven for deciding that the main characters of the movie were the cars, and the humans walking around on the set were just the extras. Car people instantly got what this movie was really about, In their minds, anyway. Yes, American Graffiti was, among other things, an on-the-money portrayal of California teen car culture in the early '60s. The players included a '55 Chevy, a '56 Thunderbird, a '51 Mercury kustom, a '58 Impala Sport Coupe, a '58 Edsel, and even a Citroen 2CV in feature roles. But the absolute star of the show was a bright yellow 1932 Ford Standard Coupe, the car now known as Milner's Coupe. In the movie, it was "the fastest thing in the valley." Milner's Coupe may be famous today, but when Lucas cast the '32 five-window for his movie, it was no high-dollar hot rod. It was a rag, that the producer had grabbed from a used-car lot for $1300. The coupe was a very different car than the one seen in the movie. It was a full-fendered street rod with a three-inch top chop. It was only partly finished in primer gray with red fenders, and the interior was upholstered in red and white plastic. Lucas, who had spent his teen years cruising the streets of Modesto, California, knew exactly the look he wanted for the Milner coupe: a down-and-dirty street racer. So he had the stock fenders removed to create a traditional Deuce highboy look, with minimal cycle-type fenders bolted on to skirt the era's anti-hot rod vehicle laws. The exterior was treated to a quick-and-dirty yellow lacquer paint job, and the interior was dyed black for a competition look. Cheap chrome-reverse wheels, and skinny blackwall tires. The small-block Chevy V8 was either a 283 or a 327, accounts differ, got a set of chrome sprint-car headers, no-name finned valve covers, and a rare Man-A-Fre intake setup, which used four two-barrel carbs on an aluminum manifold. A set of detachable camera platforms were constructed so that Lucas and his crew could film the in-car scenes. And that was pretty much it. The coupe was no thing of beauty, and it wasn't meant to be. Car people got it. Milner's coupe wasn't a show queen. It was the real deal. Of all the famous '32 Fords known around the hot rodding community, Milner's coupe is far from the nicest. According to the hot-rodding fashion police, many of its features are downright odd: the tacky aluminum firewall cover, the stunted grille shell, the awkward fenders. But these only add to the car's character. The original movie car is still around in the hands of a California collector, but meanwhile, despite all its quirks, Milner's coupe is easily the most duplicated '32 Ford in the hot rod world. There are tributes and replicas everywhere. At any decent-sized hot rod show, you will probably find at least one American Graffiti coupe.
A game of subtle lights and shadows reveal the magnificent curves of the body of this Legendary American Muscle Car: The 1932 Ford Coupe Milner's Deuce American Graffiti one of the most influential vehicles of the 20th century. A true Car Legend that lives forever: the 1932 Ford Coupe Milner's Deuce American Graffiti Cell Phone Case for Apple iPhone and Samsung Galaxy Smartphones!
Available in:
Silver Grey • British Green • LeMans Blue • Italian Red • Military Green • Good Orange • Oil Black • Racing Blue
for:
Apple iPhone 4 • 4s • 5 • 5s • 5SE • 6 • 6s • 6 Plus • 6s Plus • 7 • 7 Plus • 8 • 8 Plus • X • XS • XS Max • XR • 11 • 11 Pro • 11 Pro Max • 12 • 12 Mini • 12 Pro • 12 Max
Samsung Galaxy S4 • S5 • S6 • S7 • S8 • S8+ • S9 • S9+ • S10 • S10e • S10+ • S20 • S20+ • S20 Ultra • S20 Lite • S20 FE • S21 • S21+ • S21 Ultra • S21 FE • S22 • S22+ • S22 Ultra • S23 • S23+ • S23 Ultra
The cover / case is made of Flexible Rubber or Hard Plastic (for the oldest models) and a Printed Aluminum Insert.
The image is permanently infused into the aluminum that will not crack, fade, chip, or peel (we do not use stickers or decals).
Easy access to all buttons and features of your phone, plug your charger cable, and headset without removing the case.
The Smartphone is not included. You will receive 1 (one) Smartphone case / cover / skin only.
This Smartphone Case is brand new with a tag. It is in stock, packed in a bubble bag, and ready to ship.
This product was designed, printed & packed in the USA.
* Ford or any other marks are registered trademarks. Our products are not approved by any of these manufacturers and trademarks. We do not imply any association with these manufacturers and references are based on historical information in the public domain.