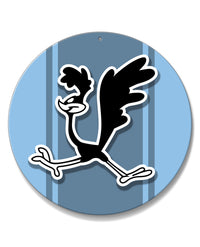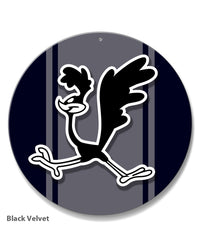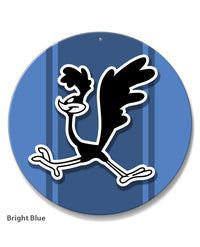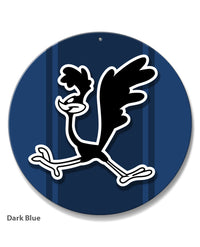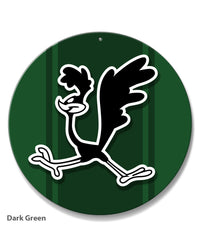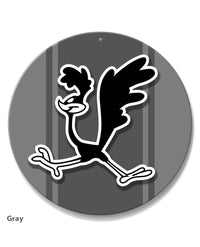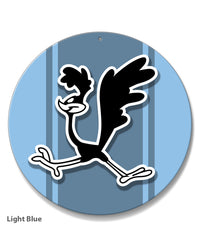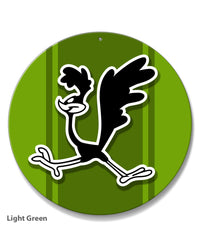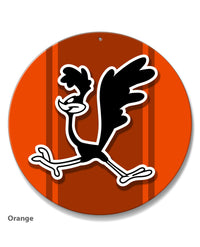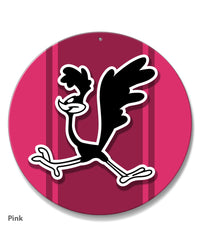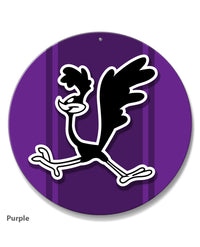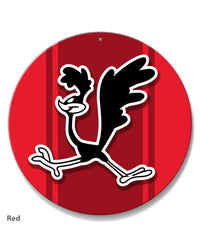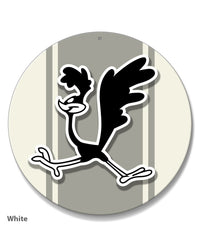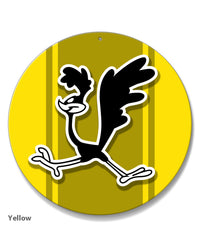 1968 Plymouth Road Runner Emblem Novelty Round Aluminum Sign
Product Code:
PLY_RDRNNR_68_LOGO_ROUND_SIGN_BLK
Vintage 1968 Plymouth Road Runner Emblem Novelty Round Sign

Plymouth introduced the Road Runner concept in 1967 as a low cost muscle car intended for younger buyers. The car was based on the lightweight Belvedere body, and further stripping of non-essentials made the vehicle event lighter. This not only drove the price of the vehicle into territory that most could afford, but it gave an advantage over heavier vehicles. The front and back seats were both bench. There was no radio, no air conditioning, no cruise control, no trim, and very few color options. Most of the options available favored speed and acceleration. Plymouth paid Warner Brothers to use the Road Runner cartoon image. Along with the image, the horn went 'beep-beep'.
Perfect for all car enthusiasts that want to show their passion for their 1968 Plymouth Road Runner, this Novelty Round Sign looks great on a wall at home, garage, office, workshop, Man cave, private roadways or anywhere you feel you deserve a special decoration spot. Choose between 14 different colors that contrast beautifully with the vintage 1968 Plymouth Road Runner emblem. For any car guy, this is the ideal gift to add style and show their pride.
Available in: Red - Purple - Light Green - Orange - Yellow - Pink - Bright Blue - Light Blue - Black Velvet - Dark Orange - Dark Green - Dark Blue - Gray - White
Made of .042 Aluminum
11 3/4" (30 cm) diameter
1 hole for easy mounting
Water-resistant
UV protected for outdoor use and durability
Made in USA
* Plymouth or any other marks are registered trademarks. Our products are not approved by any of these manufacturers and trademarks. We do not imply any association with these manufacturers and references are based on historical information in the public domain.