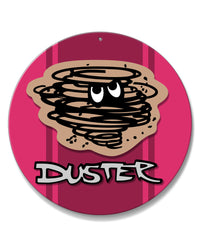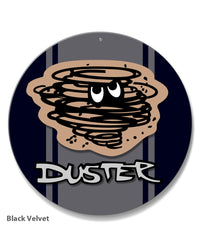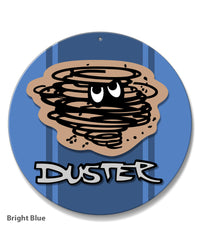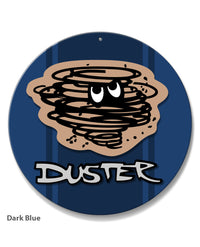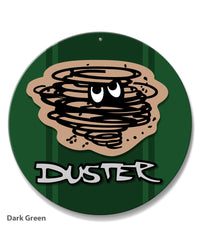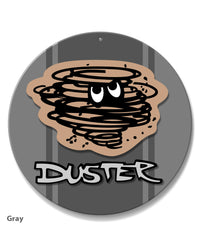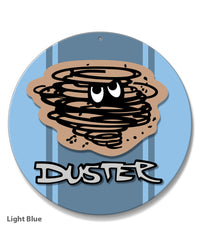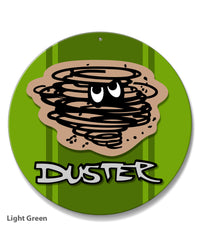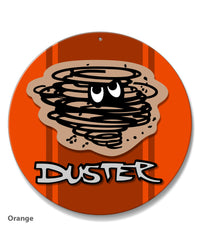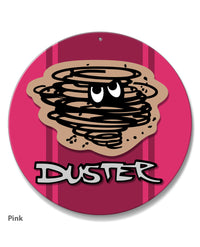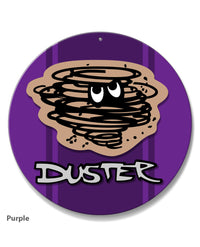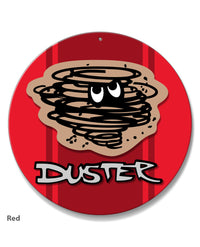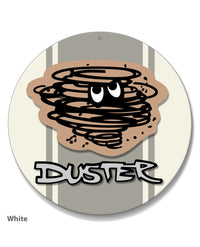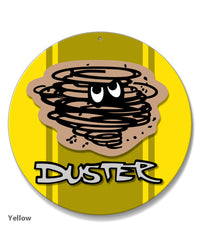 1970 - 1975 Plymouth Duster Emblem Novelty Round Aluminum Sign
Product Code:
PLY_DSTR_LOGO_ROUND_SIGN_BLK
Vintage 1970 - 1975 Plymouth Duster Emblem Novelty Round Sign

The Valiant was given a facelift for 1970 and used it to create a new car called the Duster. The Duster was a $15 million effort to update the compact Valiant and used many of the components from it, including the platform, the front end sheet metal, but featured a different design from the cowl back. The Valiant badge appeared only on the first model year Dusters. Though this had been an unauthorized project, the Duster was put into production and win over the hearts of many buyers. The small footprint and lightweight persona helped spawn a high-performance version of the Duster, the Duster 340. It was given subtle design cues such as striped down its sides and small 340 decals. The original idea was to use the Warner Brothers Tasmanian Devil swirl cartoon but they were unable to secure the rights. So designs were drawn with their own 'Duster' or devil swirl. The name drew from the idea that when a driver lost a race they were left in the dust or 'dusted'. The car was positioned to compete with the Chevrolet Nova.
Perfect for all car enthusiasts that want to show their passion for their 1970 - 1975 Plymouth Duster, this Novelty Round Sign looks great on a wall at home, garage, office, workshop, Man cave, private roadways or anywhere you feel you deserve a special decoration spot. Choose between 14 different colors that contrast beautifully with the vintage 1970 - 1975 Plymouth Duster emblem. For any car guy, this is the ideal gift to add style and show their pride.
Available in: Red - Purple - Light Green - Orange - Yellow - Pink - Bright Blue - Light Blue - Black Velvet - Dark Orange - Dark Green - Dark Blue - Gray - White
Made of .042 Aluminum
11 3/4" (30 cm) diameter
1 hole for easy mounting
Water-resistant
UV protected for outdoor use and durability
Made in USA
* Plymouth or any other marks are registered trademarks. Our products are not approved by any of these manufacturers and trademarks. We do not imply any association with these manufacturers and references are based on historical information in the public domain.