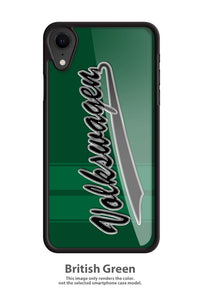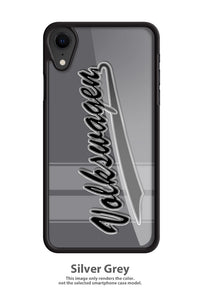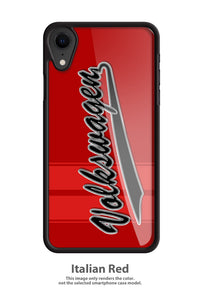 Vintage Volkswagen Emblem Smartphone Case - Racing Stripes
Product Code:
VINTAGE_VOLKSWAGEN_EMBLEM_STRP_BRIT
Vintage Volkswagen Emblem Cell Phone Case for Smartphone
In the early 1930s the average German rarely could afford anything more than a motorcycle, and Volkswagen was founded in 1937 by the German Labour Front with some great help from a vegetarian German guy with a square mustache and named Adolph. Although designed in the 1930s, the Beetle was only produced in significant numbers from 1945. Call it Beetle, Kafer, or Coccinelle, over 21 million of the beetle were manufactured. It is one of the world's most influential car of the 20th century. Then came Type2 or bus, camper, van or an other many many names in many markets. It had a sympathetic fallowing since its inception and has become a counterculture symbol. Later the Karmann Ghia was introduced. The car lacked in power and performance, but made it up with elegance and the joy of owning a "sporty look" car while what they really needed was a common one. The friendly VWs have won our smiles and entered the Legend on the tunes of their unique engine sound.
A beautiful and detailed design of the vintage VW emblem, a Legendary German Automobile. Harmonious, accurate and elegant, the design reveals your interest and passion for this iconic and most influential vehicle of the 20th century. It contrasts magnificently with any chosen colors of the smartphone's case . Refine and stylish, it is a perfect for showing your passion for a true Legend that lives forever: the vintage Volkswagen Emblem Cell Phone Case for Apple iPhone and Samsung Galaxy Smartphones!
Available in: Silver Grey • British Green • LeMans Blue • Italian Red • Military Green • Good Orange • Oil Black • Racing Blue
for: Apple iPhone 4 • 4s • 5 • 5s • 5SE • 6 • 6s • 6 Plus • 6s Plus • 7 • 7 Plus • 8 • SE • 8 Plus • X • XS • XS Max • XR • 11 • 11 Pro • 11 Pro Max • 12 Mini • 12 • 12 Pro • 12 Pro Max • 13 Mini • 13 • 13 Pro • 13 Pro Max • 13 Mini • 14 • 14 Plus • 14 Pro • 14 Pro Max • 15 • 15 Plus • 15 Pro • 15 Pro Max
Samsung Galaxy S4 • S5 • S6 • S7 • S8 • S8+ • S9 • S9+ • S10 • S10e • S10+ • S20 • S20+ • S20 Ultra • S20 Lite • S20 FE • S21 • S21+ • S21 Ultra • S21 FE • S22 • S22+ • S22 Ultra • S23 • S23+ • S23 Ultra
The cover / case is made of Flexible Rubber or Hard Plastic (for the oldest models) and a Printed Aluminum Insert.
The image is permanently infused into the aluminum that will not crack, fade, chip, or peel (we do not use stickers or decals).
The case is NOT compatible with wireless charger.
Easy access to all buttons and features of your phone, plug your charger cable, and headset without removing the case.
The Smartphone is not included. You will receive 1 (one) Smartphone case / cover / skin only.
This Smartphone Case is brand new with tag. It is in stock, packed in bubble bag and ready to ship.
This product was designed, printed & packed in the USA.
* Volkswagen or any other marks are registered trademarks. Our products are not approved by any of these manufacturers and trademarks. We do not imply any association with these manufacturers and references are based on historical information in the public domain.