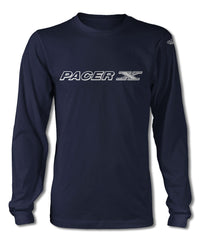 1975 - 1980 AMC Pacer X Emblem T-Shirt - Long Sleeves - Racing Emblem
Product Code:
AMC_PACER_75_80_LOGO_LS_S_BLK
AMC Pacer X 1975 - 1980 Emblem Long Sleeve T-Shirt - Racing Logo
When AMC introduced the Pacer in 1975 it was unlike any other vehicle on the road. It featured a unique hatchback design, a passenger's side door that was larger than the driver's door, a high glass area, a sloping hood, and a design which is one of the most recognizable of all times. In total, 280,000 examples of the AMC Pacer were built between 1975 and 1980. The design is still considered controversial. Its wide body and short design was uncommon. Also, a small car being powered by large engines did little for its fuel economy or its appeal. But the Pacer is cool, and in which other car Queen's "Bohemian Rhapsody" could sound that good?! Scwiiiiiiiiing!
The white contrast of the print reveal the magnificent emblem of the AMC Pacer X 1975 - 1980 logo emblem, a Legendary American Automobile. Detailed and harmonious, the artistic illustration has grabbed the essence of one of the most influential vehicle of the 20th century and is printed in front of the tee. Refine and stylish, it is a perfect wear for any occasion and to show your passion for a true Legend that lives forever: the AMC Pacer X 1975 - 1980 Logo Emblem Long Sleeve T-Shirt.
The featured original artwork has been printed on a high quality 6.0 oz 100% pre-shrunk American cotton t-shirt.
Seamless double needle collar - sleeve & bottom hems.
It is available in Black, Charcoal, Indigo, Forest Green, Navy, & Military Green in size S - M - L - XL - 2XL - 3XL

* AMC or any other marks are registered trademarks. Our products are not approved by any of these manufacturers and trademarks. We do not imply any association with these manufacturers and references are based on historical information in the public domain.